Directions to MLCP
Our Location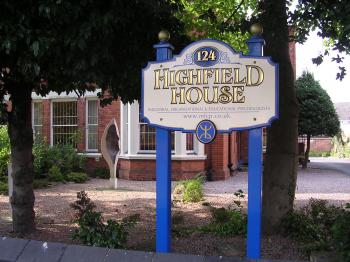 Highfield House lies on the A 6005, at 124 Derby Road, Long Eaton. It is easily accessible from Junction 25 on the M1 and the A52 by following the signs to Long Eaton. These take you to the Eaton Farm public house roundabout where you turn left towards Long Eaton.
Highfield House is half a mile on your left, just before the road bends slightly to the right. Look out for Breedon Street and just beyond it the post box in the front garden wall of Highfield House. The blue sign of Highfield House is also very noticeable. You will have gone too far if you reach the church and College Street. The other important landmark is Trent College, for Highfield House lies opposite its Primary School, The Elms.
If you are approaching from Nottingham, once past Long Eaton Asda on your right, continue along the A 6005 until you spot the church also on your right, standing on the corner of College Street. Highfield House lies just beyond it.